SMDC Mint Residences - LOCATION
Mint Residences is getting much attention these days as its prime location invites families residing in nearby cities to upgrade their homes and location for a more cost-effective and efficient working and family bonding experience! 

Mint Residences is situated in an ideal location that's close to your needs. Located in Chino Roces, Makati City. May it be offices, schools or other establishments; everything you need is just a few minutes' drive away.
Mint Residences SMDC is an ideal location for those seeking exclusivity, comfort and convenience. Accessible to both public and private transportation, its strategic location allows smooth travel to every destination that matters to you. 

Mint Residences Chino Roces Makati City is a short distance from the city's premier retail and entertainment hub and mall - giving residents an endless array of facilities and amenities for shopping. 

A strategic location indeed, Mint Residences Makati City boasts to its future residents a life undiscovered where everything they need is within reach. 

Hospitals, schools, churches, commercial centers and business districts. What more would you ask for? They are all near Mint Residences.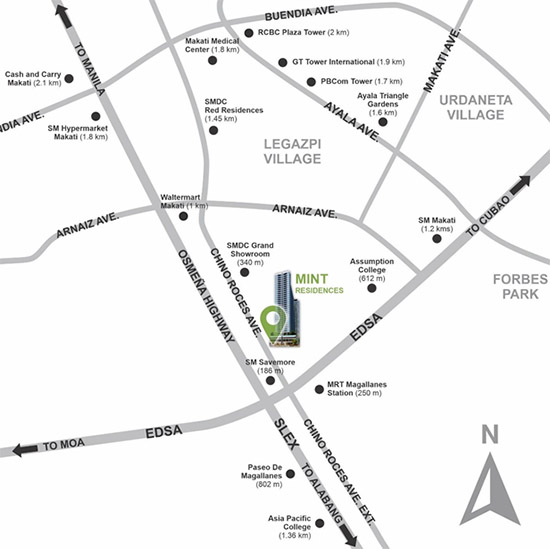 Makati City is maybe the most progressive city in the whole of Metro Manila. It signifies a certain level of sophistication and elegance. Why? All the biggest hotels, restaurants, banks, embassies, retail centers, local and global companies, BPOs, shopping malls, financial institutions, and other businesses can be found here. This city is complete in itself – whatever you need and want, it's right here. If you're a Makati resident, you have the access to a lot of life's conveniences plus places of leisure, culture and arts are also within easy accessibility. What more can you ask for?
MINT RESIDENCES is situated in a strategic location where everything is just within a reach, at Chino Reyes. Transportation is accessible, too. You can easily access both public and private transportation. Major thoroughfares are all around the vicinity so it's easy to go from one place to another. There's public transport – either jeepney, bus or even MRT and LRT that are conveniently located all over.

Makati is also a few minutes from both the local and international airports so you need not worry in reaching the airport in time since it's a few minutes away and traffic is not so bad. You are assured that you'd get in the airport in due time, no worries about that.
Parents usually treat the education of their children as a top priority. There are many good educational institutions in Makati that you can opt to have for your children such as Assumption College, Colegio de Santa Rosa, Don Bosco Technical Institute and Colegio San Agustin. There are also reputable graduate schools like the prestigious Asian Institute of Management, the ATENEO Professional Schools and last but not the least, the RCBC-LA Salle Graduate School of Business - all of these are within the city, too. Can any city beat that?
For thanksgiving and prayers – Catholic churches are Sto. Nino de Paz or the more popularly known as the Greenbelt Chapel, St. John Bosco Parish Church, St. Alphonsus Mary de Liguori Parish Church and San Ildefonso Parish, to name a few. Non-Catholic churches such as Christian churches, Jesus Latter Day Saints and Iglesia ni Kristo are within the vicinity, too.
Global hospitals are very near for your expert medical care and during emergencies like Makati Medical Center and St. Luke's Medical Center in BGC. Or you can also go to Medical City in Pasig City or Cardinal Santos Medical Center in San Juan City.
Shopping in this part of the metro will surely be a great experience. If you need premium and exclusive global brands, then the boutiques in Greenbelt area will satisfy what you want. Go to Powerplant Mall in Rockwell for more high-end stuff. Other popular shopping centers that are located here are SM Makati, The Rustan's, Glorietta and Landmark. Some would go to places like the old, reliable Makati Cinema Square for some home rare and good finds, Paseo de Magallanes, Alphaland South Gate Mall, Waltermart and SM Savemore Pasong Tamo. Or you can always go in nearby cities such as Alabang and BGC where there are more shopping destinations. As long as you have the resources, feel free to splurge on.
Are you nationalistic and a Filipino culture lover? Perfect – check out a bit of Philippine culture from the following: Ayala Museum, Museo ng Makati, Filipinas Heritage Library and the Philippine Army Museum, all located in the city of Makati.
For those who are keen on having a different take on recreation, there are a few refreshing gardens and parks in the city to choose from, such as: the Greenbelt Park, the Ayala Triangle Park and the Makati Park and Garden. Other interesting places to go to and spend the time wisely are as follows: the Libingan ng mga Bayani, The Philippine Stock Exchange and the Manila Polo Club.
As you can see - Makati City is not just a financial and business city. There are places to go for everyone. Best of all, you have diverse options as you seek exclusivity, comfort, convenience, pleasure, good vibes from the arts and culture or retail therapy.
Indeed, Makati is a city you would live, love and dream for. Cool, isn't it?